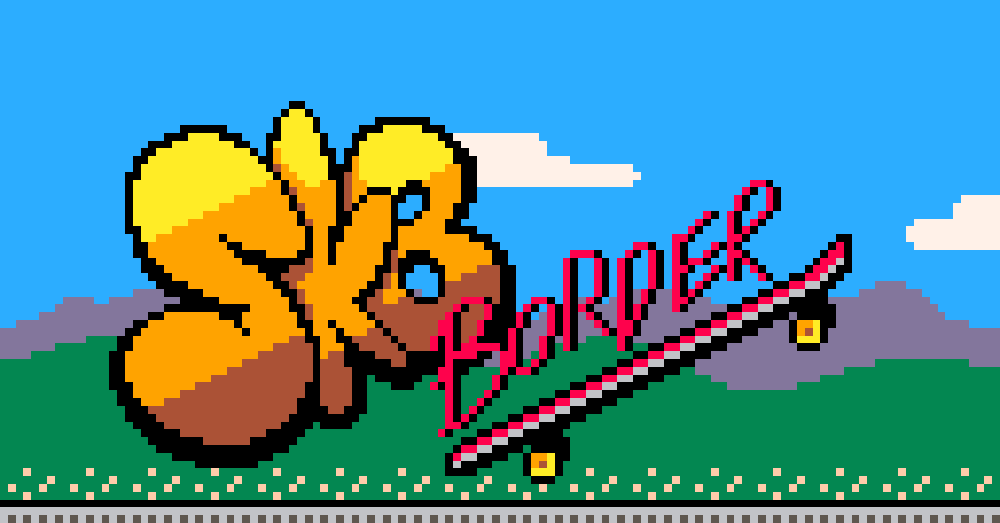 Sk8border
(Le français suit)

Sk8Border was created in Montreal in March/April 2018 for the Anti-Fascist Game Jam as a collaborative effort by Leif Halldór Ásgeirsson, Marc-André Toupin and Ben Wiley. It is built with PICO-8.
This game runs in your web browser - even on your phone!

How to play
Hold

Z

or X while on the ground to crouch
Release both Z and

X

to do an ollie (jump)
Hold

Z

while above the wall to perform a 5-0 (tail) grind
Hold

X

to perform a nosegrind
Rack up more points by alternating grinds
Chain together grinds to max out your power meter... and blow that wall to smithereens!
=========================
FRANÇAIS
=========================

Sk8Border a été créé à Montréal en mars/avril 2018 pour le Game Jam Antifasciste, par Leif Halldór Ásgeirsson, Marc-André Toupin et Ben Wiley. Il est fait avec PICO-8.
Ce jeu fonctionne dans le navigateur - même sur les téléphones!
Comment jouer
Tenez Z ou

X

lorsque vous êtes au sol pour vous pencher
Relâchez à la fois Z et

X

pour faire un ollie (sauter)
Tenez Z lorsqu'au-dessus du mur pour faire un 5-0 (tail) grind
Tenez

X

pour faire un nose grind
Obtenez plus de points en alternant les grinds
Enchaînez les grinds sur le mur pour remplir la jauge de puissance... et faire voler ce mur en éclats!

-------------------------------------------------------------------
This game is open source. Woah!
Ce jeu est open source. Wow!

Or load this png in PICO-8!
Ou chargez cette image dans PICO-8!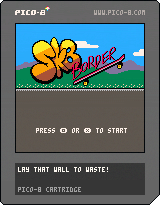 Download
Click download now to get access to the following files:
sk8border-windows.zip
836 kB
sk8border-mac.zip
1,010 kB
sk8border-linux.tar.gz
488 kB